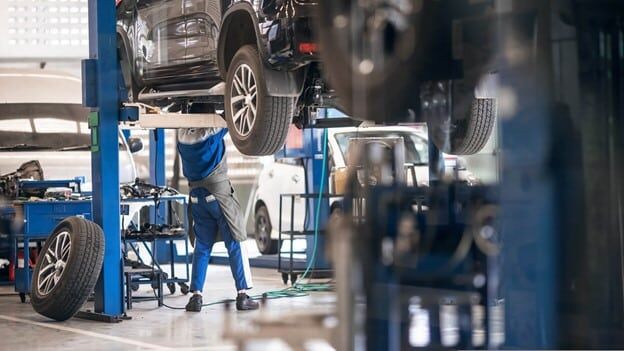 When you have a malfunction in the front suspension components of your car, you may notice a difference when you drive. The expert mechanics at Sommer Car Care in Brisbane can help you recognise some common symptoms of suspension problems. In this blog, we explore the dangers of driving with suspension issues and outline how to recognise and address these issues. Contact our friendly staff today to learn more.
Common Suspension Problems and How to Identify Them
Here are some front suspension components issues you may face, plus how to identify them:
Wheels are Unaligned
Hitting potholes or curbs can knock your wheels out of alignment. Poor wheel alignment can cause extra wear on the tread of your tyres which can result in costly repairs and replacements. Poor wheel alignment may be noticeable if your steering wheel is veering to either side when you're driving straight.
Worn Out Shock Absorbers
Shock absorbers limit the force of the impacts you feel when you drive, using liquid to dampen the effect of inconsistencies in the road. When shock absorbers leak, driving becomes more uncomfortable when hitting bumps and potholes. If you feel minor impacts a lot more than you used to, ask one of our expert staff to check your shock absorbers.
Sagging or Broken Springs
Springs are important front suspension components, as they hold the weight of your car. Wear and tear can cause springs to sag or break over time. You might notice that one corner of your car leans slightly further, or that you begin scraping either end of your car when entering or exiting a driveway.
Damaged Ball Joints
Ball joints attach your car suspension system to the wheels. They absorb impact and rotate a lot when you turn the wheels. If you are screeching when turning the wheel, it may mean your ball joints need to be replaced.
Worn Out Control Arms
Control arms connect your wheels to the frame of the car and the steering to the wheels. When the rubber bushings on the control arms wear out, they can cause issues with handling and lead to excessive wear on tyres. If you feel a loss of stability or control while steering, your control arms might need replacing.
Why are Suspension Issues Dangerous?
Poor suspension can cause you to lose the stability of your steering. It can also impact your ability to break correctly and cause damage if the front of your car dips. Driving with damaged suspension can also inhibit your ability to maintain control of your car when you hit potholes.
What Our Customers Think
When you bring your car into Sommer Car Care, our expert mechanics will use our state of the art diagnostics and years of industry knowledge to identify and resolve any suspension issues. Satisfied customers have left glowing reviews, such as "I felt like I drove away with a new car" and "Good replacement parts saved me a lot of money without sacrificing quality".
If you think there may be issues with your car suspension or other components, call Sommer Car Care on 07 3171 8780 or contact us online to schedule a diagnostic inspection.