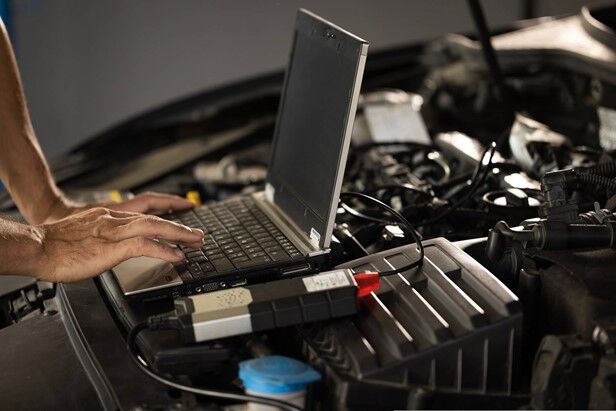 Diagnostic Codes are a vital diagnostic tool in any auto technician's toolkit. Located in your car's OBD (on board diagnostic) computer, they pinpoint faults and errors that are invaluable to the diagnosis of your car's woes.
At Sommer Car Care, your Euro car specialist in Brisbane, we recognise it can be very tempting for car enthusiasts to scan their own cars and look up diagnostic faults. We'd like to share some reasons why it's important that you don't allow anyone to clear your diagnostic data before your next visit to your auto technician.
What is a Diagnostic Trouble Code (DTC)?
A diagnostic trouble code (DTC) is a five-digit alphanumeric code which is triggered by your car's onboard diagnostic computer when a malfunction occurs. The code will frequently take the form of an alphanumeric digit followed by four numbers. Each code corresponds to a specific fault that may have occurred within the car's engine, transmission, body, chassis, network or other systems. Whilst generic DTC codes do exist for many cars, not all manufacturers or brands follow a standard set of codes. Different brands or foreign cars may have their own custom set of manufacturer's diagnostic codes that are specific to the manufacturer.
How are Diagnostic Codes Read?
Diagnostic trouble codes are usually only visible with the use of a diagnostic scanning tool connected to your OBD computer. Some passionate car owners may own their own scanners, or these scanners may be used by your roadside assist service. If you have experienced a car malfunction, or called out an auto assist service, it is important that you make sure the diagnostic codes are not cleared before you have taken your car to your preferred auto service technician. Even if you believe that the fault is fixed.
Why you Shouldn't Clear Diagnostic Codes
When it comes to diagnostics, accurate data is an auto technician's greatest advantage. Sommer Car Care will always recommend that you don't clear diagnostic codes before your car is checked by your auto technician. If, for some reason, a vehicle owner or your roadside assist service clears the codes, this will result in the freeze frame data and all mode 6 information to be lost. Sub codes are also not reported by cheaper global fault code readers, so this information may never be accessed if your diagnostic codes are cleared
What May Happen if Your Diagnostic Codes are Cleared
If your codes are cleared, they disappear from your onboard computer forever. Sommer Car Care can try to recreate the fault in your car to gain access to the correct data, but the fault may not appear in the first appointment, requiring additional visits. This causes delays and potential extra expenses if it's an intermittent fault.
We enjoy sharing our passion for diagnostics and hope that sharing our findings and having a quick chat about our processes can convince you that your car is in good hands with the experts at Sommer Car Care, your Euro car specialist.
Contact Sommer Car Care for Prestige European Car Repairs
Talk to Sommer Car Care about repairing your prestige European car or call us to schedule your Auto Service on 07 3171 9377 today.